If you haven't already planned out your content schedule, make sure to start here. After you're done planning your content strategy and have it all written out with your list of dates, holidays, hashtags, vendor times, and events you host it's time to tackle the next step.
How do you create content?
Every single day, week, or month you are looking at your list and you think what do I even say? I don't want to talk about just the specials or deals – I want to talk about the information that is valuable and relevant to my clients that they want to engage in.
The next piece is CRITICAL! This is the part that I really want you to spend time on today because it's the one thing that will help you with your business.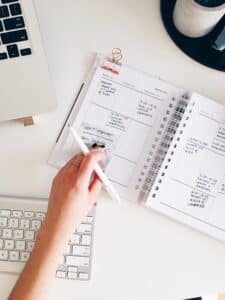 Ready?
Take out a sheet of paper and write this on the top?
What do my customers ask me about?
I want you to come up with 30 different questions that people ask you – yes 30!
Now if you decide you want to do one for every week or day of the year, that's great! If you want to make a list of 52 or 100 and your mind starts rolling, by all means, keep writing them down! The more you come up with, the more content you will have to draw from BUT at a minimum come up with 30 things that customers ask you about.
To get your mind rolling some examples would be:
The difference between products
How to know when to (blank).
Anything such as these are opportunities for you to write down a question and to generate content around that idea.
Block out 20 minutes right now and take that time to write down as many questions as you can that customers ask you about your products or services. Remember, there are no dumb questions so even if you think it's silly, write everything that comes up in your brainstorm down on your paper. Don't criticize or critique – just write down what you think about and before you know if you'll have 30 interesting topics that your customers want to know from you!
Get to writing and next we will learn how to take these ideas and add them to your content calendar so that you have a strategy for the next year.
Want to head straight into the next step of putting it all together and executing? Make sure to check out how below and grab my FREE Content Strategy Playbook while you're at it!