You've made it to the last step to finalize your content strategy! If you haven't taken care of creating your schedule and brainstorming your ideas, make sure to do those steps first! Now it's time to let your customers get to know you so you can move them through the know, like, and trust funnel. 
Just to recap:
 First, we talked about and outlined your year with holidays, events, etc. We added fun hashtags to increase your brand recognition and be a part of the conversation. 

We spent time breaking down the questions that your customers are asking. These were the questions that you hear all the time and maybe don't even realize that you have this information. Often, we think everyone knows but they are really looking for the answer from you! This list is crucial in what we will do today.
Grab both sheets of paper – your calendar and your list of questions.
It's time to put the ideas into your calendar!
This allows you or someone on your team to execute the strategy.
Take a look at your list and make a note if there are certain questions to answer or address that are more relevant at certain times of the year. If you find this to be true, put those into your calendar first.
For example, if you are an accountant and want to talk about gathering receipts and this needs to be done earlier in the year then you want to talk about that in January and February. If you're in the plumbing business and you want followers to know how to protect their pipes in the winter, then put that down for the months heading into winter.
Regardless of the questions that are on your list, you want to be strategic in offering enough time for you to promote the items (problems and solutions) and then adequate enough time for your followers to actually act on the solutions. 
Just like in the example above, if you are the plumber and talk about freezing pipes in December, you may be too late.
Having these conversations earlier will allow you to share throughout the month, build conversations and gather correct leads if you need to.
When you look at your list, you likely will find some questions that can be answered any time of the year without any set timing concerns. With these topics just start at the top of your strategy calendar and start plugging them in and move forward.
If you are starting this in January, plug them in there. If you are starting in August, plug them in there. Wherever you are starting this content strategy calendar, plug them in the gaps from the beginning.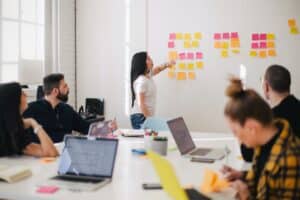 Congratulations! You now have a content strategy!
You know exactly what you're talking about each month, you know holidays, you know vendors, you have hashtags. This gives you a high-level look at the content you can create for your business.
However, a content strategy is only as good as its execution! This part may be the hardest part of creating the strategy – it's not always figuring out what to talk about each month, but actually creating the content.
That's why I have given you some bonus information on tips/tricks to get this going – make sure to check them out and really master your content strategy!